The Mechanical Electrical and Computer Hub is a student organization devoted to inspiring, encouraging and engaging engineering students through projects, workshops and research. Within MECH, students can brainstorm, develop and build their own projects and ideas.

Every semester, students can apply for approval for new projects or participate in on-going projects. In addition, the organization provides a series of workshops throughout the semester, where students from all different majors can learn about unique subjects that enhance their field of view in engineering. Furthermore, MECH has a research program, where students can turn their projects into an independent research with participation of engineering faculty.
Powered by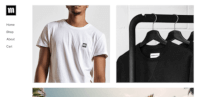 Create your own unique website with customizable templates.